Instant Underflow Dam
$2,629.00 – $2,947.00
Prevent spills from spreading with the quickest way to dam up ditches and small streams. The Instant Underflow Dam installs in minutes, with only 2 or 3 people.
Available sizes online:
DAM2125:   21"H x 25'L
DAM2825: 28"H x 25'L
Other available sizes: DAM3930: 39"H x 30'L.
Call 814-822-2004 to order or request pricing for DAM3930.
Description
Description
Spills spread 100 times faster when they reach a body of water.
Traditional underflow dams are not a quick solution.
A lot of sandbags, dirt and pipe.
A lot of manpower or machines.
A lot of time.
By the time traditional methods are implemented, the impact of the spill will cost you big bucks.
The Instant Underflow Dam:
Installs in minutes, with only 2 or 3 people.
Flexible material allows it to adapt to most stream and ditch bottoms.
No special equipment needed. No filling with water or inflating with air needed. Simply unroll the dam, unfold the upstream flap and let the flow of the stream fill it.
No anchoring needed. Just uses the weight of the water to weigh it down to the stream bottom.
Underflow holes built into the downstream side, so that you can regulate the flow on the upstream side and keep the spill contained.
Multiple units can be attached together to make whatever length you need.
Wash and reuse dozens of times.
Learn More:
Blog: Stop Sandbagging! Create Underflow Dams in Less than 10 Minutes
Case Study: Fast Daming Oil Spills in Hard-to-Reach Streams
Article: Ensure Rapid Response Time for Effective Spill Control
Training: Underflow Dam Instructions Videos (includes step-by-step instructions for deployment, removal, and storage)
On-Demand Webinar: JAN 2022 Instant Underflow Dam Webinar
White Paper: Underflow Dams in Less than 10 Minutes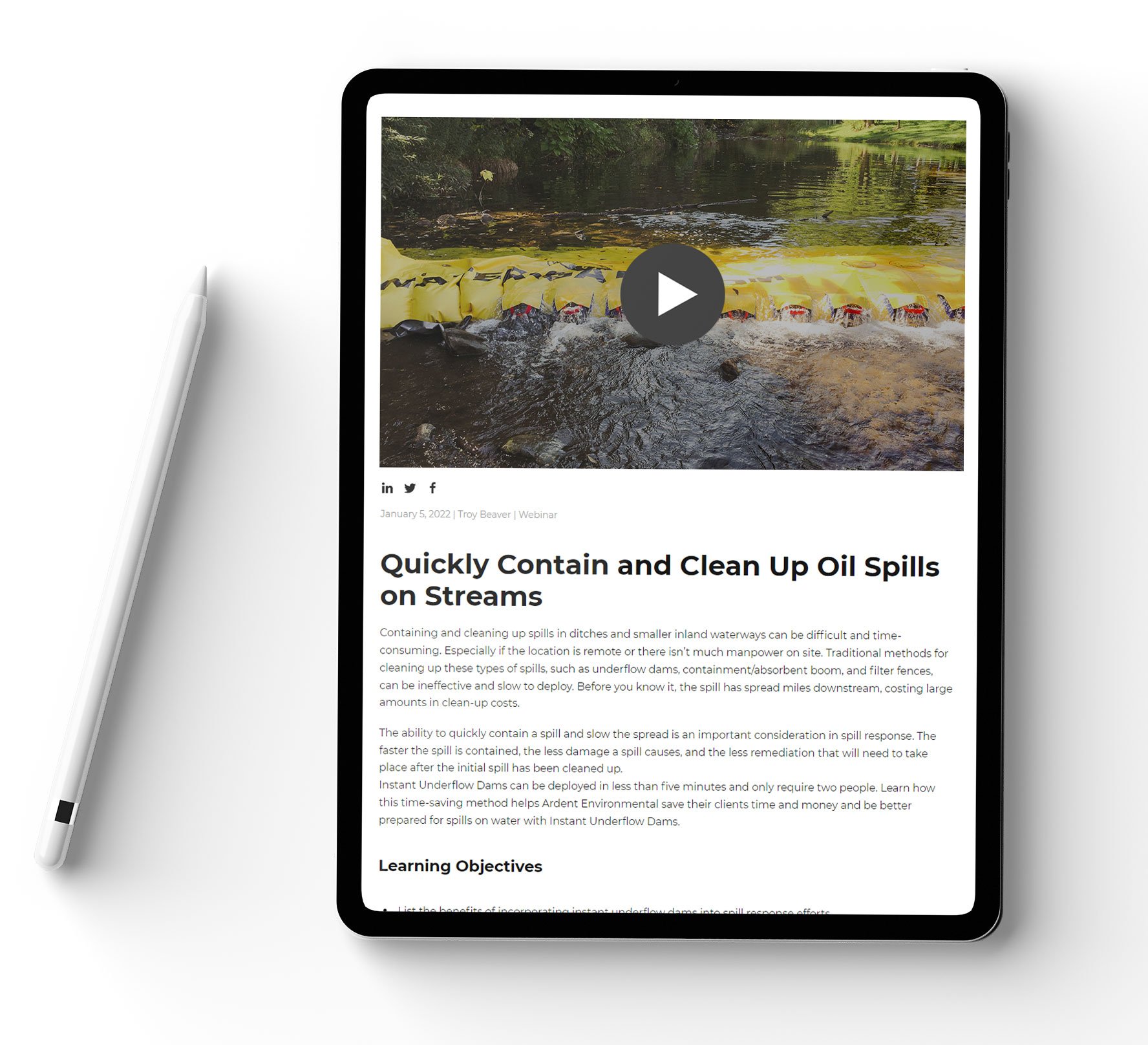 Learn how to quickly stop oil spills on water with the Instant Underflow Dam — presented by HalenHardy partner and trainer Troy Beaver with special guest Bill Dennis from Ardent Environmental Services.
Videos
Videos
Stop Sandbagging! Create Underflow Dams in less than 10 minutes
Instant Underflow Dams weigh less than 60 lbs and are easy to deploy
How it Works - Instant Underflow Dam
How to Deploy Instant Underflow Dam
How to Remove Instant Underflow Dam
How to Connect Instant Underflow Dams
How to Clean and Store Instant Underflow Dam
Product Specifications
Product Specifications
DAM2125
DAM2825
DAM3930
Water Retention Height
21"
28"
39"
Product Length
25 feet
25 feet
30 feet
Product Width
(Stream Bottom Skirt)
72"
97.5"
158"
Product Weight
37.4 lbs
59.5 lbs
150 lbs
Rolled Up Dimensions
16"W x 16"L x 20"H
16.5"W x 16.5"L x 25"H
21"W x 15"L x 37"H
Underflow Holes
13
14
19
Carrying Case
YES
YES
YES