Spilltration® Husky Polyback Oil Filter Mini Roll: SPL019
$139.00
32" x 25', 1 roll
Husky Polyback Mini Rolls are perfect for cutting to size to precisely fit specific applications. Big enough to cover large areas. Small enough to be managed by one person.

Recycled

UV-Resistant

Made in the USA

Filters Oil from Water
Description
Description
Traditional oil absorbent rolls aren't designed for outdoor use.
Conventional oil only absorbent rolls are not engineered for outdoor leaks and drips. Most oil-only absorbent rolls:
Don't work well when it is raining. The rainwater creates a barrier on the oil spill mat and carries the oil off and onto the surface below.
Don't absorb much oil or fuel, especially in wet conditions.
Degrade and turn to powder when exposed to UV light.
Allow leaks to "bleed through" and reach the ground underneath.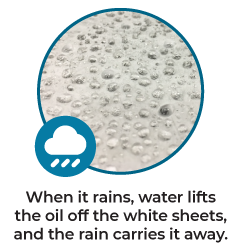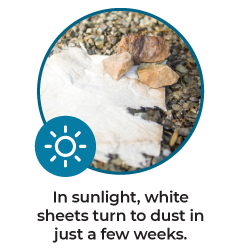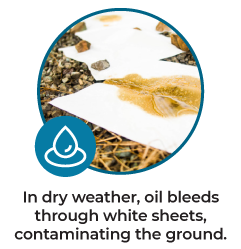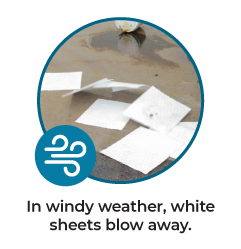 Husky Polyback Oil Absorbent Mini Rolls are engineered for the outdoors.
Now you can absorb and contain oil drips and leaks from outdoor machinery and equipment, even when it's raining. The 14-pound Mini Roll is 32 inches wide x 25 feet long and absorbs about 18 gallons of oil. You can easily throw it in the backseat of your truck. Spilltration® Polyback Mini Rolls are:
Great for placing directly under heavy drips and leaks or covering larger areas.
Come in an easy-to-manage size that can be cut to length for your specific application.
The top layer of Spilltration® Husky Material is engineered to hold onto oils, fuels, and other petroleum products while allowing rainwater to filter through.
The bottom layer is a rugged polyethylene backing, which prevents the oil from "bleeding through" onto the ground.
UV-Resistant for long-term, outdoor deployment.
Spilltration® Husky fibers are made from post-consumer content.
How much Polyback Oil Filter Mini Roll do I need?
Use our Dripulator Guide to Calculate →
Learn More:
Technology: What is Spilltration® Technology?
In the Field: Better Products to Control Transformer Oil Leaks and Drips
In the Lab: UV Degradation of Oil Spill Control Materials Explained
Regulations: Used Oil – 40 CFR 279
Download: Husky Polyback Mini Roll, Husky Polyback Line Sheet
Videos
Videos
Spilltration Polyback Husky Rain Test
HalenHardy White Spill Sheets vs Husky PolyBack Oil Filter Pads
Bird uses white spill sheets for nests
UV Turns White Oil Spill Sheet to Powder
White Oil Spill Sheets Hate the Rain
White Oil Spill Sheets Hate the Sun
Oil breaks through the white spill sheets after just a teaspoon
Product Specifications
Product Specifications
Fluids Absorbed:  Oils, Fuels & Other Petroleum Products – Filters Water
Dimensions:  32"W x 25'L
Sold as:  Each
Absorbency:  18.3 gallons/roll
Weight:  14 lbs./roll
Recycled Content:  > 95% Recycled Content.  Spilltration Husky fibers are 100% recycled content.
Impermeable Backing:  Yes
UV Resistant:  Yes
Smoosh Pack:  No
Compliance and Restrictions
Compliance and Restrictions
Does not float.  Not for use on water.
DO NOT use with acids, bases or oxidizers.
Dispose of used product in compliance with local, state & federal regulations